3 Best Headphones For Your Mobile Lifestyle
I love headphones. Why? Two reasons. For one, they're a crucial part of my mobile office working environment. In this respect my MacBook Pro and my headphones ARE my office. Second, I've grown up with music and there is just something about a good pair of headphones that is magical. It takes you inside the music in a really special way, and if you've ever listened to Pink Floyd's Dark Side of The Moon in a good pair you know what I'm talking about. Besides, a speaker system of equal quality is ten times more expensive.
So, this said, you've probably figured out by now I've spent quite a bit of cash on headphones in my day. I've tried countless in-ear, around-the-ear, and on-ear phones. I've hated many, liked a few and loved a handful. Here are my favorites:
Favorite Headphones at Home: The Beyerdynamics DT990 Pro's
You can look at headphones technically and oooh and aaah about frequency response spectras and whatever, but to me, there is really only one good measure of what is a good headphone: A good pair makes you want to listen to your entire music collection all over again. That's it.
The Beyerdynamics DT990 Pro is a mega favorite of mine and it's one of those headphones that make you want to re-listen your entire Spotify-collection (oops, that would take a while), and sure, their specs aren't exactly bad either (see FR-curve below), but that aside, these just sound great. Listen to, for example, Johnny Cash's "Hurt" and marvel over how these phones churn out a really clear yet meaty bass, while having excellent resolution all the way across up to the leaking hiss of Cash's voice and beautifully catching that pressured tube distortion towards the end. It's just mega amazing.
The DT990's are exceptionally comfy open headphones which, besides keeping your ears cool, also gives the sound a roomy openness to it that you can't get from closed cups. You sacrifice some low end punching power, but that is really not what these babies are for anyway. This graph says it all technically, but you really have to hear them to believe them.
[Edit: These babies are really not done justice without a headphone amp driving them. Calculate one into the total buying cost].
Favorite Headphoens on The Road: The Monster Beats by DrDre
While the Beyerdynamics are hard to compete with in many ways, they do have their drawbacks. Being open, they don't close out barely any ambient noise, and they leak quite a bit to the outside. They are also very big and sort of fragile thus basically hopeless to bring along anywhere. Wearing them on the subway would look amazingly corny and would not work very well. For mobile use, office use, working at café-use, airplane use and whatever else that might just pop up and that you cannot prepare for we need something completely different. Here is what I need from a product like that:
1. Foldable with a good case. Highly mobile.
2. Sturdy.
3. Microphone for iPhone use.
4. Noise reduction.
5. Killer looks.
6. Killer comfort.
7. Ok sound, even though this will clearly be part of the compromise.
As it happens, there is a pair of headphones just like that. They come from high end cable maker Monster and are made in collaboration with DrDre.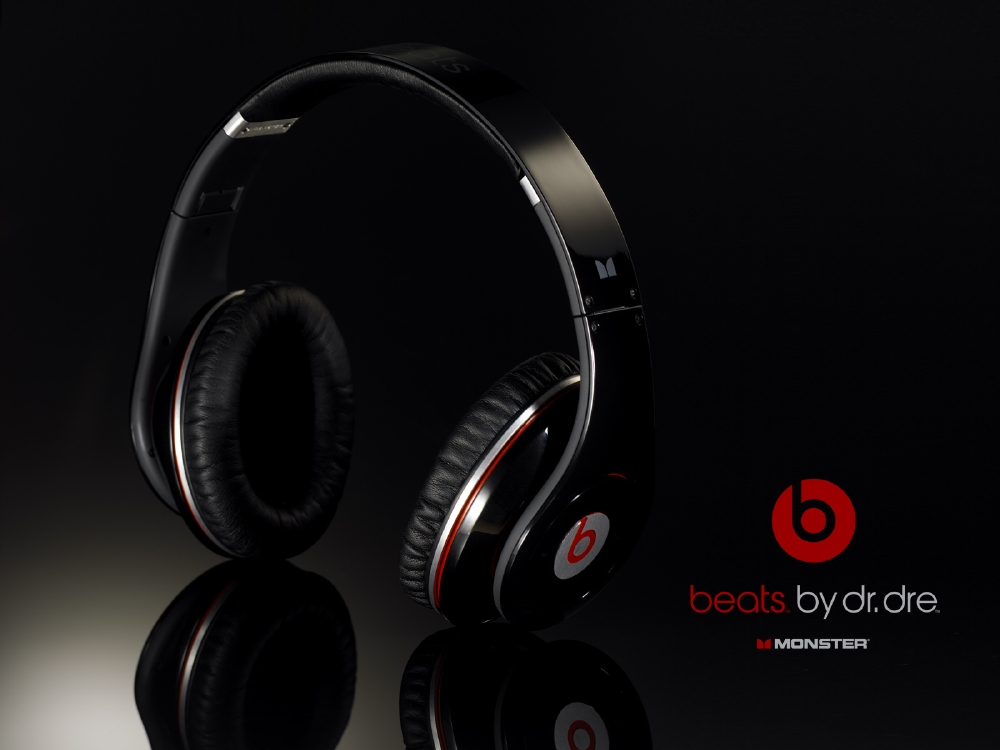 The second you open the box there is just instant love. The box itself is near Apple-class packaging design, and the headphones really stand out as top class design and workmanship in every way.

And that's until you put them on your head. These babies sit perfectly over your ears with a snug fit. Very different from the Beyerdynamics, but the purpose is also a completely different one. I'd say these are just perfect mobile office headphones when it comes to fit and looks.
The noise cancelling works ok and shuts out the world around you well enough. Unfortunately there is a disappointing hissing sound that REALLY shouldn't be there with phones in this price range, but besides that the sound quality is more than ok. Sure, they are far from the Beyerdynamics in sound quality, but these are, like I said, a compromise. For my kind of use, they are more than ok. The FR-graph here shows you sort of what to expect. It's good, but you have some odd dips in the high end and a slightly annoying bump in the midrange. The bass is beautiful though if slightly emphasized. They beat the Beyerdynamics in one respect – being closed they have a punch to them that I mentioned lacking in open headphones. This is not something you want all the time, but it's nice for a change. Overall, they just work.
[Edit: Speaking of headphone amps, these are slightly amplified in themselves and really don't need one in my opinion – a big plus for mobility].
Favorite Earphones When I'm In Stealth Mode: The Q-Jays
These in-ears don't look like much. They're small, cheap-looking and highly discreet, but don't let looks fool you. These small gems deliver on audio quality beyond most competitors, a fairly steep price tag, and are actually of good build quality. They have a really balanced frequency response for their price range without exaggerated bass and kick ass clarity across the range.
On the minus side, I don't like the cables that much, they don't have a microphone and they have a tendency to fall out if I use them while running. Also, in-ear headphones REALLY get inside your head. The listening experience isn't even the same breed as open headphones, but that's really a matter of product category and shouldn't be put on the Q-Jays' liability account.
The Q-Jays' combination of size, stealthy looks and actual audio quality simply make them unique, and a perfect complement to my two other favorites above. If this type of headphones is what you're in the market for, just buy them. You won't regret it.
The Conclusion: Buy All Three Today
So that's it. If you have these three products, you should pretty much be set for any situation. Sure, these are all pricey products, especially the Monsters are VERY overpriced when put in perspective of their audio quality, but their combination of features and specs still make them worth their price. And like I said, when you consider what you'd have to pay for a speaker system of similar quality, or if you consider that these babies are actually a crucial part of your working environment, buying all three is really a no-brainer.
About the Blog
This blog is written by Walter Naeslund and has been around since 2007. The blog is about the journey of starting an advertising agency and a sneak peek behind the scenes of what goes on at the Honesty HQ in SoFo, Södermalm. It is also a blog about communication & technology. The blog has gathered almost a thousand posts over the years with several longer and shorter breaks. Welcome and enjoy.
Learn More